Dental implants are an incredible solution for damaged or missing teeth. They can improve not only a patient's smile but their sense of self! All-on-4 dental implants are a particularly exciting innovation in the dental industry. This dental implant requires four implants being placed in the jawbone. Then a full arch or bridge of either lower or upper non-removable teeth is secured into place. These dental implants look, feel and function just like natural teeth. It's a fantastic option for people who need multiple teeth replaced but don't want more than four implants being screwed in.
Even though All-on-4 dental implants look, feel and function like natural teeth, there is a different routine for keeping them clean. If you have All-on-4 dental implants, you'll need to follow a specific hygiene regime that differs slightly from just brushing and flossing. Keep in mind for all of these steps; you will need to pay close attention to the gum area around your dental implants. Food particles can get caught where your dental implants have been attached to your jawbone, which can lead to pain.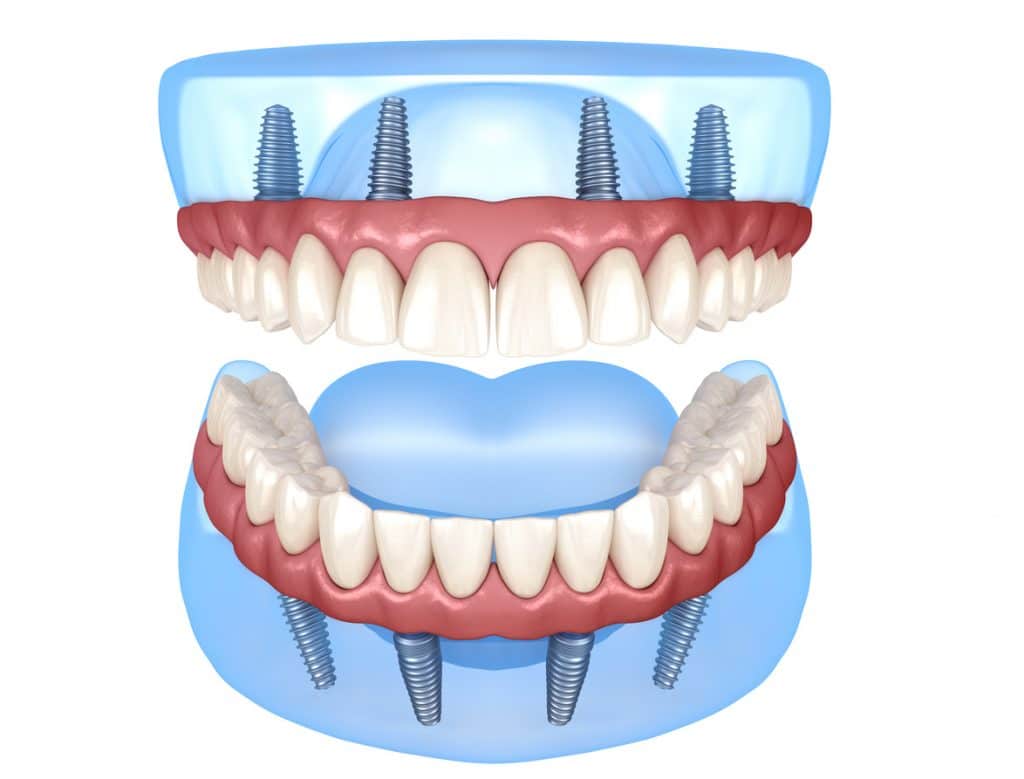 Step 1 –Water Flosser
Water flossers or oral irrigators or dental water jets are a great addition to any at-home dental hygiene routine. They are especially beneficial for people with All-on-4 dental implants. Water flossers are able to clean bacteria out of hard-to-reach places much better than regular dental floss. Regular dental floss can also shed particles that could contribute to peri-implantitis. The water pressure and pulsations target plaque and food particles right at the gum line. We recommend using this tool daily for a maximum clean and to boost your oral health. When using this tool, ensure to stick to the low and medium pulsation settings. The high setting may be too intense for your all-on-4 dental implants and cause minor separation. We recommend using the water flossing tool as the first step in your oral care routine, so it doesn't clean out any fluoride toothpaste in your mouth.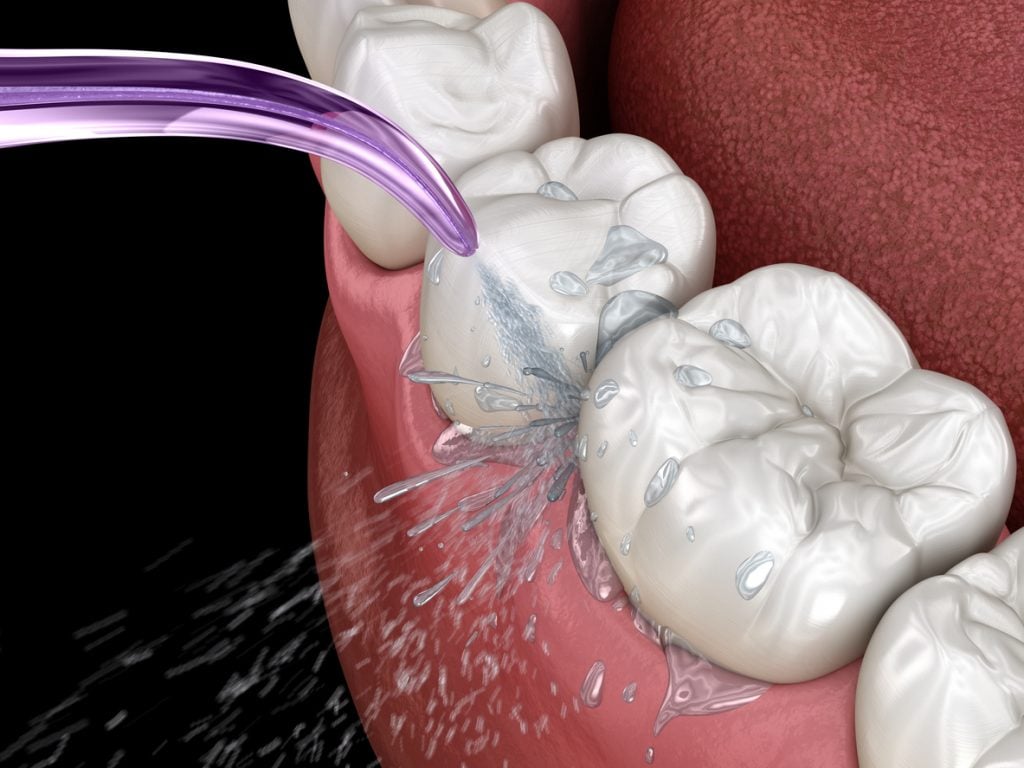 Step 2 – Brushing Your All-On-Four Dental Implants
Since we've been kids, we've been reminded of how important it is to brush our teeth. Brushing your teeth twice a day for at least two minutes is crucial in any oral hygiene routine and keeps your teeth clean and white.
The same principle applies when you have all-on-four dental implants. Dentist North York's experts recommend using a high-quality, soft-bristled toothbrush. Soft bristles are a lot more gentle on gums yet just as capable as harder bristles. It doesn't matter if it's manual or electric, whatever you prefer. Gently brush your teeth in small circular motions and make sure you reach all way up to the gum line.
When brushing with all-on-4 dental implants, you should always use a toothpaste with no abrasive ingredients. Toothpaste with baking soda and other stain-removing ingredients can be harmful to all-on-4 dental implants. If you're unsure of which toothpaste will work best for you, our experts can recommend one.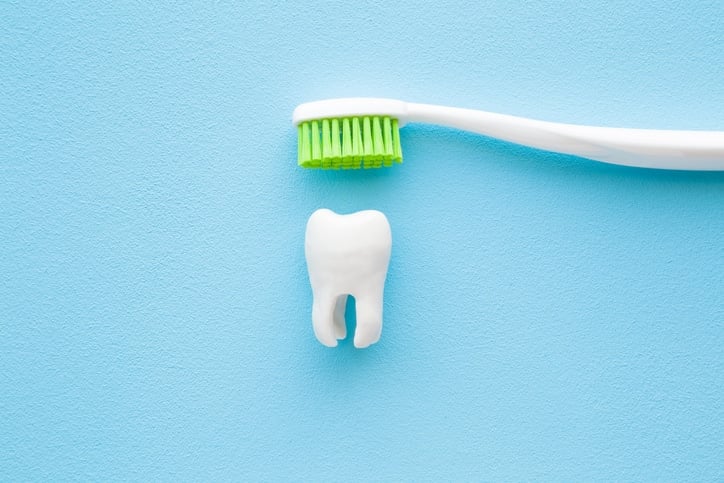 Step 3 –Rubber Tip Gum Stimulator
On top of brushing your tooth and using a water flosser, a rubber tip gum stimulator is an essential tool for anyone with All-On-4 dental implants. It allows you to trace along your gum line and get to hard-to-reach places even better than water flossers.  To prevent infection from food getting stuck at the base of your gums where the bridge is implanted, use a stimulator. The soft rubber tip can do a deep clean painlessly. A lot of water flossers come equipped with rubber-tip stimulator attachments. We recommend using this tool at least once a day, preferably at the end of the day, for a more thorough clean of your all-on-4 dental implants.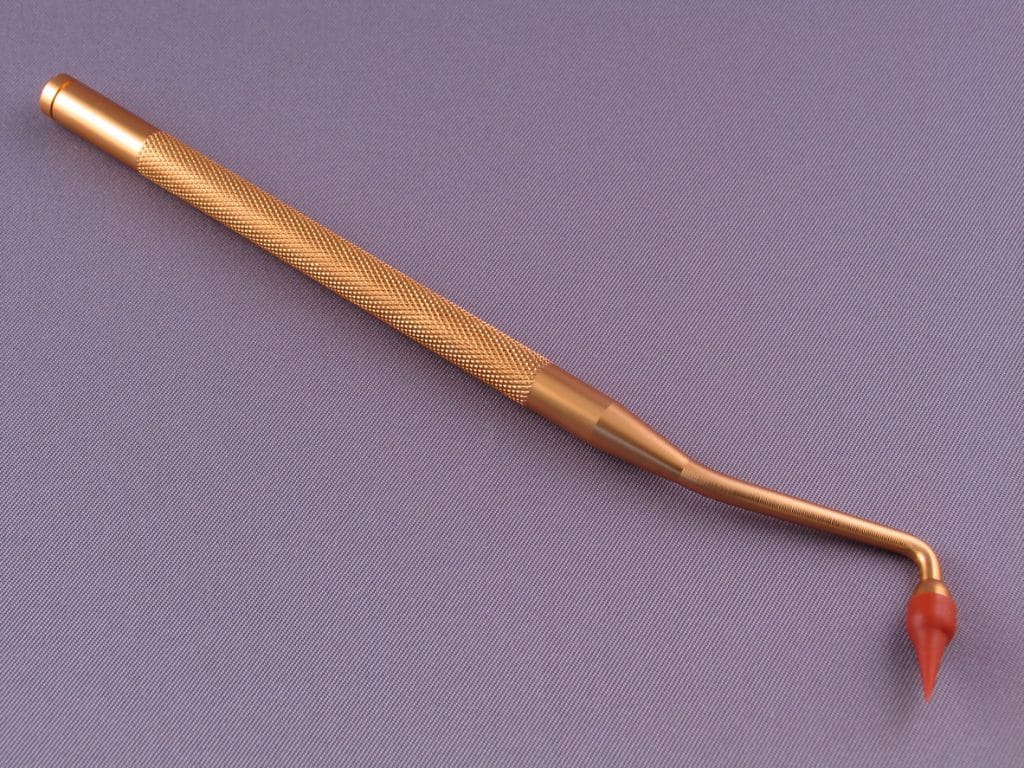 Step 4- Sulcus Brush
Sulcus toothbrushes are essentially specialized brushes used to clean sensitive gums. They are about one-third of the size of the average toothbrush. This tool is an excellent addition to any all-on-4 dental implants cleaning routine. It is perfect for deep cleaning the part of the all-on-4 dental implant bridge that connects to the gums painlessly.
This oral hygiene routine definitely will take longer than a regular brush and floss routine; however, patients with All-on-4 dental implants need to maintain their dental health properly. Dentist North York specializes in not only All-on-4 dental implants but all other dental implants. Our patients' oral health is our top priority. For additional information on how to clean All-on-4 dental implants or any other oral health concerns, contact us today or book a complimentary dental consultation.