Dental implants work, feel and look like real teeth. They are a more natural and permanent solution to missing teeth than dentures, bridges or partial plates because they are attached to your jawbone. When you have dental implants, you can eat and talk without worrying that they will break or move, unlike other tooth replacement options. They are a premium solution for patients missing one or more teeth. If you're a good candidate for dental implants, you may be wondering how they work. In this blog, we'll discuss the process of getting dental implants in detail and everything else you need to know about how they work.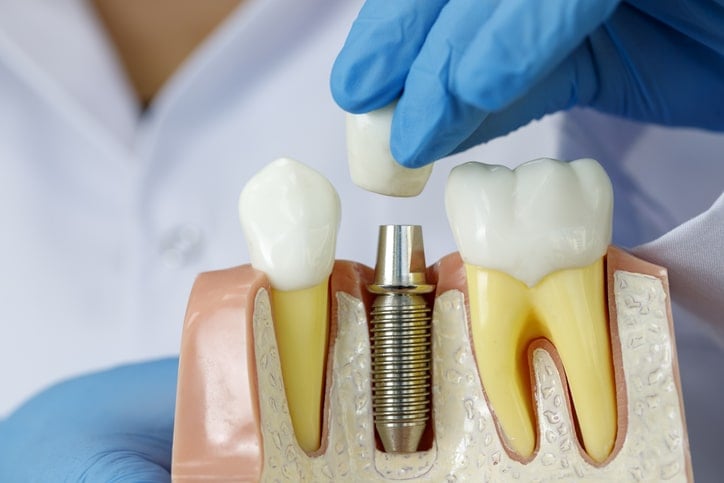 The Dental Implants Process
The main difference between dental implants and other tooth replacement options is that dental implants are attached directly to the jawbone. Here is the step-by-step process for getting dental implants at Dentist North York:
At your initial consultation with one of our talented dental implant specialists, you will discuss your medical and dental history to ensure you're a good candidate for dental implants. Then, we will take 3D X-Rays, CT scans, or panoramic films to understand your anatomy better and create a model of your teeth and jaw.
Next, the specialist will create a treatment plan customized to your wants and needs. Once you've accepted this treatment plan, we'll schedule a date for your initial implant appointment. Before your implant surgery, the dental implant specialist will develop a surgical guide allowing for the precise surgical placement of your dental implant(s) using the latest technology in the dental field.
If your jawbone density is not strong enough to support the implant, our periodontist may need to perform an alveolar bone graft. A bone graft involves placing synthetic or donor bone into the jaw to strengthen the base. This area will need to heal approximately six months before the implant placement if you require this procedure.
Tooth extraction may be required before dental implant placement. In this case, you will have to wait about ten weeks for the extraction site to heal before you're able to get your dental implants placed.
On the day of the dental implant surgery, the dentist will inject a local anesthetic into the gums to numb the area where we are placing the implant. We have additional sedation dentistry options such as oral sedatives to make you feel more comfortable for anxious patients. We strive to make all of our dental implant procedures painless for our patients.
The placement procedure involves our oral surgeon cutting your gum to expose the jaw bone. The surgeon drills a hole into the bone where the dental implant's titanium post will be placed. It's implanted deep into the bone, mimicking a tooth root. You may be given a temporary crown while waiting for osseointegration. Osseointegration is required for the jawbone to unite with the dental implant's post. This process can take several months, but it's crucial for the functionality of your dental implant(s).
After osseointegration has been completed, you may require an abutment. An abutment is a connector between the implant in your jaw and the crown. It functions as a tiny screw. This process involves the gum being cut to expose the dental implant and then attaching the abutment to the implant.
Once you have a solid base for your new artificial tooth and the abutment has been placed, our dental implant experts will attach your final crown with dental cement or a screw. This crown will be customized to match your teeth perfectly.
When the procedure is complete, we will schedule regular follow-up appointments to ensure you're properly maintaining your dental implants and they are healing properly.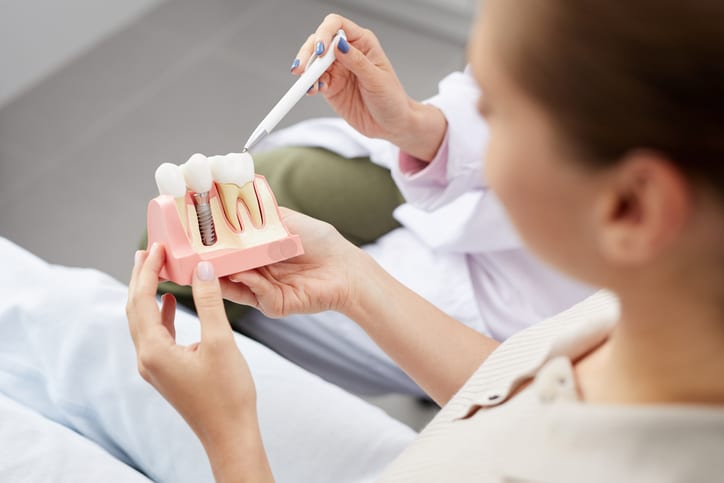 How to Take Care of Dental Implants
Dental implants work just like your natural, permanent teeth, so you will need to brush and floss your teeth twice daily. Additionally, you will need to attend regular dental checkups so your dentist can ensure your bite is in the right place and your implants are functioning properly.
How All-on-4 Dental Implants Work
Dentist North York additionally specializes in All-on-4 Dental Implants, which replace a full set of upper or lower teeth. They work the same as regular dental implants in that they are attached directly to the jawbone. However, with All-on-4 implants, four titanium posts are surgically implanted, and the full set of permanent dentures are then attached to these four anchors. With this denture alternative, the implants won't loosen or shift. Typically, bone grafting is not required, and an entire set of teeth can be replaced in one day with one surgery.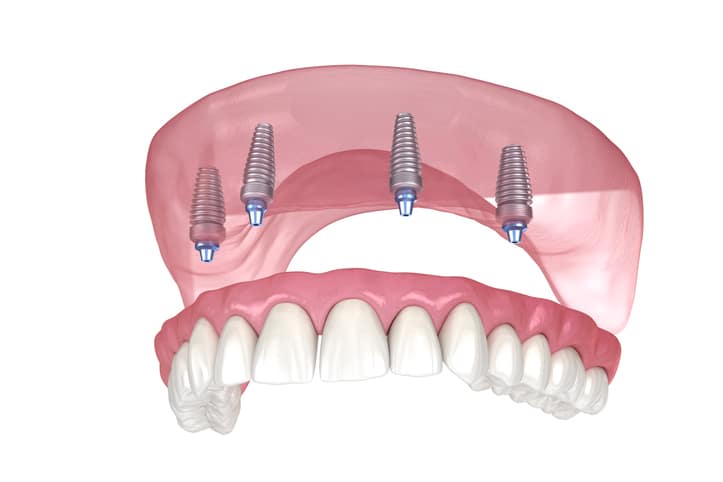 How To Know If You're A Good Candidate
You're a good candidate for dental implants if the following apply to you:
You're in good health overall (besides missing teeth)
You have a fully developed, strong jawbone
You have healthy gums
You're not pregnant
You don't have a chronic illness or immunosuppression
You don't grind your teeth or clench your jaw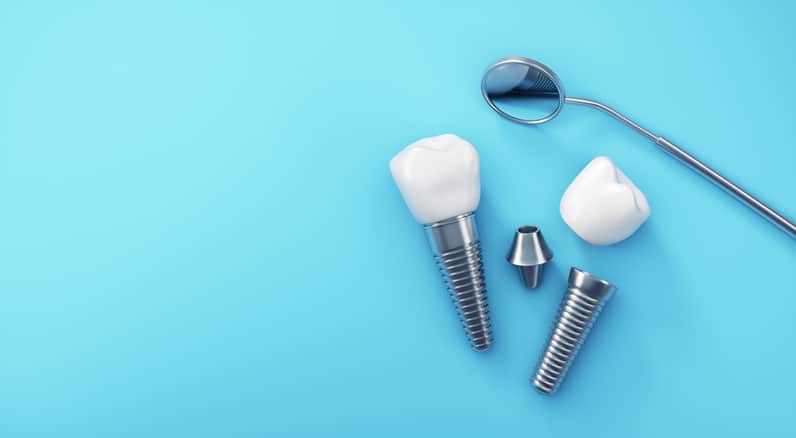 How To Choose the Right Dental Implants Clinic
Not all dental implant clinics are equal. Ensure you're making the right decision by having this procedure done at a clinic that has state-of-the-art equipment and a certified and highly experienced dental implant specialist.
If you're looking for a Dental Implants Clinic in North York, look no further than Dentist North York. Our resident Periodontist, Dr. Matthew Chan, has been practising dentistry since 2006. He is an expert in the precise placement of dental implants. Dr. Chan, along with our talented team of dentists, will provide you with a natural, permanent tooth replacement solution that lasts a lifetime using industry-leading surgical technology. Contact our office today to book a complimentary consultation.